Swim Team
Home
Our team is a year-round competitive swim team offering high quality professional coaching and technique instruction for all ages and abilities. The goal of our team is to provide every member an opportunity to improve swimming skills and achieve success at his or her level of ability, from novice to international competitor.
All of our coaches, as members of the American Swimming Coaches Association, have access to the most comprehensive training and certification program for youth coaches of any sport in the United States. They provide assurances that the time children spend in swimming will be quality time.
VPST is a year-round swim club that offers comprehensive training and instruction for all kids of any ability. We offer multi-level group placement from the first-time swimmer to the most advanced athlete.
Swim Team Flyer
Swim Team Store
15% Discount Code:  "VALDOSTA15"
Swim Groups
Swim Groups
AGE GROUP
This is our entry level group. An athlete needs to be able to perform a 25 freestyle unassisted. This group will learn the basics of freestyle and backstroke, as well as kicking and drilling, and introduction to breaststroke and butterfly. Meet participation is optional but highly encouraged.
Equipment: Provided
Workout Days/Times: Monday-Thursday 5:00-6:00pm
PRE-SENIOR GROUP
From the Red Team, athletes move into this group. Athletes in this group focus mainly on learning four legal competitive strokes, performing starts and turns, and having fun. Yellow swimmers will also be exposed to aerobic interval training for the first time. Meet participation is optional but highly encouraged.
Equipment: Provided
Workout Days/Times: Monday-Thursday 5:00-6:30am; Friday 5:00-6:00am
SENIOR GROUP
From the Yellow Team, athletes move into this group. Athletes in this group are usually at least 12 years old and have completed the Yellow Team requirements. This group is exposed to full time training for the first time with preparation emphasis on the 200 Freestyle and 400 Individual Medley races. Competing at swim meets is highly encouraged at a rate of about once per month.
Equipment: Provided
Workout Days/Times: Monday-Thursday 5:00-7:00pmam; Friday 5:00-6:30pm
​HIGH SCHOOL CONDITIONING
This is a conditioning group for high school swimmers who are currently active in other sports, yet want to dedicate a couple hours a week to training. This group also tailors to athletes who are looking for additional training that will directly translate to their desired sport. The schedule for this program is flexible and tailored to the athlete and conducted during normal swim team hours. For more information on this program contact Head Coach Nicholas Heruska.
Coaches
Head Coach 2022
Ryleigh Musgrove –  Retired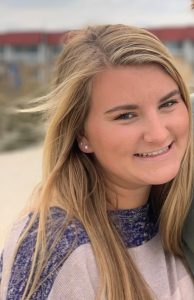 Coach Ryleigh has competitively swam since her freshman year of high school. She taught Swim Lessons from ages six months to 85 at our YMCA since 2019. Coach Ryleigh coached Lowndes High School Vikings swim team during the 2021-2022 school year. Coach Ryleigh is about to begin her senior year at VSU majoring in nursing and health science to become a registered nurse. Coach Ryleigh is always looking for ways to improve her coaching abilities and knowledge of the sport. She enjoys coaching swimmers of any level, and loves to see them build self-confidence while learning a very important skill.
Head Coach 2018 – 2021
Stephen Lance Wilkes – Retired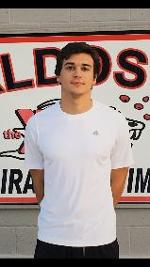 Coach Lance Wilkes has been swimming since the age of eight and grew up swimming for several club teams including our Piranhas here at the Y. In high school, Lance swam for Area Tallahassee Aquatic Club and for the Valdosta Wildcats. Because of his swimming experience, he offers a very versatile knowledge of the sport to his swimmers. Lance also just finished up his first-year coaching for Lowndes High School, and is constantly looking for new opportunities to help develop athletes of all ages. Lance feels that he fully can develop athletes both physically and mentally. He is dedicated to helping his swimmers not only reach their full potential in the pool, but also outside of it.
Assistant Coach 2019
Holley Simmons – Retired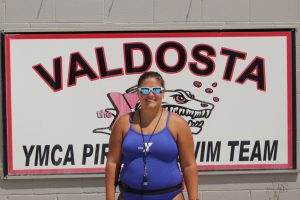 Coach Holley Simmons started in the Valdsota YMCA aquatics department in March 2018 as a swim instructor and lifeguard.  Holley has expierence teaching a wide range of participants from many different backgrounds.  Holley is dedicated to helping swimmers achieve success.  Holley enjoys seeing improvement and consistencty through encouragement.
Assistant Coach 2019
Emily Bennett – Retired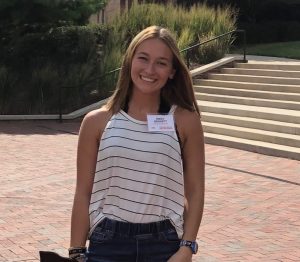 Emily Bennett has her first debut with the YMCA Swim Team as a competitive Piranha.  She later returned as a lifeguard and a swim instructor, and most recently a coach.  With her experience, Emily hopes to pass the knowledge to today's swimmers.  Not only does Emily provide stroke development but she also encourages swimmers to do their best through meaningful practices and intergrity.  Along with teaching how to be a great swimmer, Emily hopes to encourage participants through all aspects of life.
Assistant Coach 2018-2019
Gracen Jade Brantley – Retired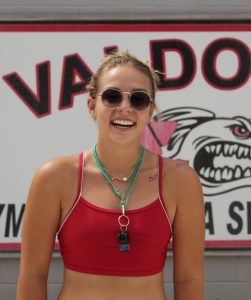 Coach Gracen Brantley has been swimming since her sophomore year of high school, starting at Salem High School Seminoles in Conyers, Georgia, then transferred to Lowndes High School Vikings to continue her swimming career. Gracen was offered a swim scholarship to LaGrange College Panthers, where she studied for her first year of school.  Due to Gracen's recent experience, she offers close and personal help with technique building and stroke development.  She also has begun working on outreach and marketing to help grow and expand the Piranha brand.
Meet Results
Swim Meet Results
USA Swim Meet – Savannah, GA
Empty tab. Edit page to add content here.